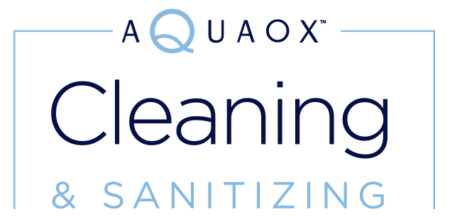 Restaurants, Office Buildings, Schools, Hotels, Assisted Living Homes, Gyms, Cruise Ships and many more.
The Aquaox™ Cleaning & Sanitizing (CSS) program is a comprehensive systematic approach for implementing more effective, efficient, healthier and environmentally friendlier cleaning and sanitizing strategies without adding unwanted substances to the environment or otherwise causing harm to guests, employees or staff.
OUR SYSTEM:
Powerful, on-site generated non-toxic, safe-to-use, electrochemical activation sanitizing solution
High performance hospital grade microfiber products
Comprehensive training and implementation of infection control's best practices to prevent cross-contamination
Standardized processes to ensure that high-touch surfaces are consistently disinfected
Objective processes to measure program effectiveness
Benefits
Elimination of 99.999% of surface bacteria such as MRSA, VRE, E.coli, Influenza and more
Effective cleaning and sanitizing with no adverse effects on human health and the environment
Reduction in labor and chemical costs
Improved operational efficiencies
No diluting and mixing of chemicals
Eliminates need for storing large amounts of chemicals
Increase safety for staff and guest
Hospital grade, split-fiber, microfiber products for reduced HAI's, labor and
chemical cost
Greater comprehensive area coverage in less time than competitive systems and devices
300% better spray penetration and coverage on all surfaces2
Leaves no residue

CSS PRODUCTS
Electrochemical Activation (ECA) Solutions
Electrolyzed water is produced by the electrolysis of ordinary tap water containing dissolved sodium chloride. The electrolysis produces two types of solutions. A high-pH, non-corrosive dirt and grease-cutting cleaner (sodium hydroxide) and a neutral-pH, high-dissolved oxygen disinfectant (hypochlorous acid).
AQUAOX
™ ECA generated hypochlorous acid acts as a high efficacy disinfectant which will kill most common types of viruses and microbes such as MRSA, VRE and E.coli. AQUAOX's™ compact, on-site ElectroChemical Activation generator quickly and safely produces neutral hypochlorous acid (HOCL). This powerful, on-site generated, solution is non-toxic, non-corrosive, biodegradable and safe-to-use.
Ÿ Kills on contact
Ÿ 80 to 100 times greater biocidal activity than 1:10 household bleach
Ÿ Completely non-toxic
Ÿ Leaves no residue
Ÿ Microorganisms cannot develop resistance
AQUAOX™ ECA generated Sodium Hydroxide (NaOH) is a non-toxic, chemical free solution with anti-microbial properties. Its alkaline characteristics and negative Oxidation Reduction Potential (OPR) emulsifies oils and grease (where bacteria hide), breaks down and suspends dirt particles and prevents them from re-depositing onto the cleaning surface.
Ÿ Safe for any hard surface
Ÿ Cuts through grease and fat
Ÿ Non-toxic and chemical free
Ÿ Laboratory tested
Read More…
GREENSPEED™ Smart Microfiber
Microfiber products were identified as a best practice tool for use in the healthcare industry by the EPA in 2002.
3
The unique nature of the product and how it is manufactured make it indispensable in cleaning and disinfecting surfaces and environments.
Ÿ Multi-color tabs on cloths and mops are color coded to assure quality cleaning, efficiency and hygienic use
Ÿ Fibers are uniquely split to an optimum level for extensive cleaning power and large absorption capacity
Ÿ Microfiber mops reduce bacteria on floors by 99% compared to 30% with cotton mops3
Ÿ Cleans efficiently using a minimum amount of water and cleaning agent
Ÿ Exceptionally long life cycle, even when washed frequently, the microfiber retains its quality and shape to deliver real user value
Read More…
VIEW GREENSPEED PRODUCTS
AQUAOX™ Electrostatic Sprayers
Aquaox's™ proprietary designed air-assisted, electrostatic sprayers quickly and efficiently disinfect large areas, difficult to reach spaces and high-traffic areas.
Ÿ 4-10 times better coverage than conventional sprayers resulting in reduced chemical and manpower costs4
Ÿ Droplets have a force of attraction 75 times greater than gravity
Ÿ Proprietary design for optimal use
Read More…
ATP Cleaning Verification
Adenosine triphosphate (ATP) is a coenzyme that is present in all living cells and an ATP monitoring system can detect the amount of organic matter that remains after cleaning an environmental surface.
The Aquaox™ Infection Control System incorporates ATP monitoring as a real-time objective process to measure program effectiveness.
Ÿ Handheld system that is easy to use and can be implemented in any size facility.
Ÿ Surface tests are affordable, easy to use, and provide instant results for housekeeping performance assessment.
AQUAOX MICROBIAL CLEAN CERTIFICATION
Laboratory Services
The AQUAOX Microbial Clean Certification Program recognizes facilities that commit to cleanliness through quantified biological testing and inspection. This process eliminates subjectivity by focusing on outcomes and results that verify hard surfaces cleaned in these facilities meet appropriate hygienically clean standards and best management practices for restaurants, hospitals, hotels, assisted living homes, educational institutions, and other commercial facilities. AQUAOX's Microbial Clean Certification acknowledges facilities' effectiveness in protecting patients, students, staff, employees and guest through testing and inspections that scrutinize quality control procedures in facility management operations.
1. Worker Illness and Injury Costs U.S. Employers $225.8 Billion Annually Worker Illness and Injury Costs U.S. Employers $225.8 Billion Annually, CDC Foundation News 1-28-15.
2. Hoffman, Fritz, Martin 2009 USDA-ARS Aerial Application Technology Group, Citrus Sprayers, Helos (H1780) & Sprayer
3. Environmental Best Practices for Health Care Facilities, Using Microfiber Mops in Hospitals, November 2002.
4. Andrea E. Dow, 2008, Control of Listeria Monocytogenes on Contact Surfaces by Electrostatic Spraying of Quaternary Ammonia, Texas Tech University.
Aquaox™ SmartSystem is a systematic approach providing smart cleaning solutions which have a real and positive impact on people and the environment. Smart because our products are efficient, innovative and ecological. They are thoroughly tested, clean hygienically in an innovative way and without using unnecessary toxic chemicals.